If you have chipped, broken teeth with sharp edges, this is often down to general tooth wear (caused by attrition, acid erosion and abrasion).
This is a complex problem which if left untreated, will result in more teeth continuing to break in the future, some of which may end up needing root canal therapy or even extraction.
There is a fantastic drill-free, injection-free treatment possible offering a natural looking, long-lasting and predictable solution that will prevent further tooth fractures and protect your teeth.
Dr Hothi has a special interest in tooth wear, with a background of 20 years of experience in helping in such cases.
Dr Hothi has had an article about his tooth wear technique published in Dental Update, which is the UK's best selling dental journal for dentists. He is also developing his reputation as a speaker at dental conferences internationally.
What is tooth wear?
Tooth wear is caused by a combination of erosion, attrition and abrasion.
At an early stage, treatment is simpler. At a later stage, root canal treatment or extractions may be necessary.
Worn teeth chip and fracture, resulting in jagged edges, which may be as sharp as a chisel.
As more of the dentine becomes exposed, acute sensitivity to hot and cold temperatures can develop.
The longer tooth wear is left untreated, the more complex and expensive treatment becomes.
Tooth wear treatment at Central Dental
If you have worn or crumbling teeth and you are worried or concerned about them, the great news is that they can be restored and brought back to their former glory WITHOUT THE NEED FOR ANY DRILLING OR INJECTIONS!
With his special interest, for over 20 years, in treating tooth wear, and using his pioneering anterior jig, Dr Hothi can aesthetically build up your worn teeth by using an exclusively adhesive technique.
Call us today on 0208 894 6115 to book for a consultation.
Some of Dr Hothi's cases are shown below:
Before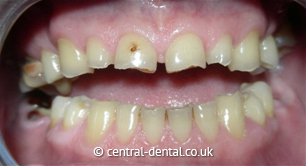 After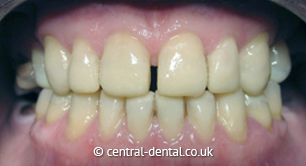 Before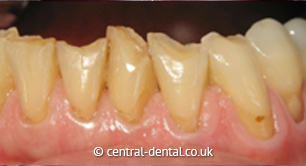 After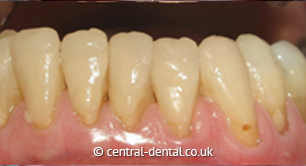 Before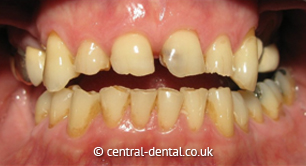 After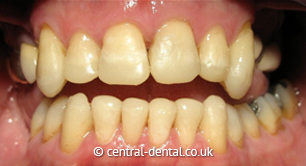 Before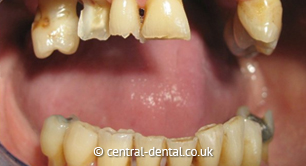 After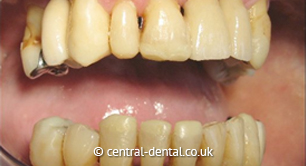 Read real patient stories

£
Twickenham
0208 894 6115
Central Dental
Dr Hothi has been my dentist for approximately 15 years. I first consulted him due to extreme pain in my back teeth, he immediately recognised that the cause of my discomfort was due to severe tooth wear due to grinding.
Dr Hothi recommended that eight of my upper teeth were built up to ease the pressure and wear on my back teeth, he expected the build ups to last for around five years, they were still in place thirteen years later. During this time I had no tooth pain which was a huge relief after suffering for many years.
Last year I had ten upper and lower teeth built up and I am extremely happy with the results, I am pain free and my teeth look better than ever.
I highly recommend Dr Hothi's dental practice, he has always gone to great lengths to explain everything to me and is extremely gentle and patient.

£
Twickenham
0208 894 6115
Central Dental
My teeth were horribly worn and getting rapidly worse to the extent that I had to avoid certain food and felt self-conscious about smiling too broadly.
It seemed no amount of conventional dentistry could improve things.
I was referred to Dr Hothi by my dentist and have been delighted with the work done by him.
The work took several hours but was painless with no after effects.
I can now eat anything I want and smile with confidence.
Thank you
After several years of suffering with tooth and muscular pain in my jaw, I went to visit Dr Hothi for a consultation. The treatment he suggested was completely different to what I was accustomed to hearing from other dentists. Over the years, several dentists had proceeded to grind down several of my teeth because my bite was off and that caused the pain and discomfort in my mouth. Some of my teeth had been so affected by the grinding that a couple of them started deteriorating to the point of needing major dental work and even crowns. Dr Hothi suggested a program to "re-build" my teeth and bring them back to where they should have been originally. He suggested that this work would eliminate the constant shifting of my teeth, stabilize my jaw and reduce all the tension in the area muscles. This would bring about the thought-after relief I wanted and needed.
The majority of the work was accomplished in one visit. A second visit was used to detail some of the finished work and polish off a couple of rough areas that were bothering the tip of my tongue. Other than that, the work was completely painless and extremely effective.
All this was done almost a year ago and I can't remember the last time it felt this comfortable and painless in my mouth. I no longer wake up in the morning with a sore jaw, I can chew anything without fear of pain or discomfort. I find myself more relaxed and no longer grind my teeth. When I close my mouth everything seems to "fall in place" nicely and there isn't a part of my mouth that receives more pressure than another. My bite is exactly where it needs to be and my teeth feel aligned. Interestingly enough, they also feel "the right size". I don't know how to explain that; but there is a sense that everything in my mouth is the way it should be and that gives me great peace of mind and increased confidence.
I can say without any doubt that if I had known this procedure was available, I would have done it a lot sooner… years sooner. My most sincere thanks go to Dr Hothi for the foresight to consider this treatment for me. It was the solution I needed with results that surpassed every one of my expectations.
Mr S G
Dr Hothi has been our dentist for nearly 15 years. In that time, my two now grown up sons have had no fillings required and they have perfect healthy teeth. This is completely due to Mr Hothi's ethos of prevention treatment and good teeth brushing techniques. Recently I was having all kinds of troubles with my bite due to the wear and tear of some teeth. Dr Hothi suggested 'rebuilding' five teeth to restore them to their proper height. It took a 15 minute consultation and then a two hour session during which the worn teeth were reconstructed with extreme precision and attention to detail. No drilling, no pain and good music to listen to during the treatment! Since then I feel like my teeth will last forever and it has given me great confidence. I am so grateful to Dr Hothi and his team for his advice, his time and the belief that we all have the best possible teeth.
Mrs F H
I can say without any doubt that had I known this procedure was available, I would have done it a lot sooner… years sooner.
Miss C S
The work was completely painless and extremely effective.
Mr R P